Polecamy z naszej oferty: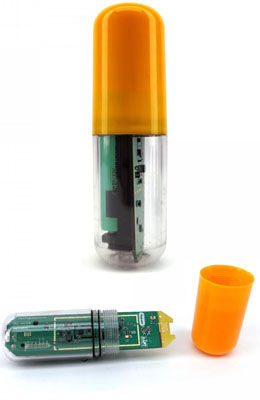 Oryginalna nazwa
RAPT Pill Hydrometer & Thermometer (includes 18650 battery) (Yellow Housing Pre-Assembled)
RAPT Pill to areometr i termometr, który umożliwia rejestrację ciężaru właściwego i temperatury w czasie rzeczywistym poprzez WIFI i Bluetooth.
Opis oryginalny:
The Yellow RAPT Pill is a hydrometer and thermometer that allows true real-time specific gravity and temperature logging and control via wifi/BlueTooth RAPT mobile app or RAPT IoT.
True real-time specific gravity and temperature logging
Compact design
Long battery life
Compatible with most standard carboys, Cornelius kegs, stainless steel fermenters, and pressurisable fermenters
You can instantly read and log the specific gravity and temperature of your fermentation via the RAPT mobile app on your compatible Android smartphone or tablet, Apple iPhone/iPad or via the RAPT IoT hub on your Windows or Mac Computer.
Pill Housing Design
The RAPT Pill housing boasts many advantages compared to other wireless hydrometers such as
Made from strong BPA Free Nylon 12 and Polyketone (POK)
Both the clear Nylon 12 and Polyketone plast are food grade, FDA approved, BPA (and free of other types of bisphenol). These are also plasticiser and phthalate-free. They also contain no endocrine disruptors making them a much better choice than polycarbonate that is used in other products. Nylon 12 and POK are also high temperature resistant, chemically resistant, and extremely robust.
Greater ergonomics
The shape of the RAPT Pill has been designed for improved usability compared to other wireless hydrometers such that the Pill separates into two pieces at the midline of the Pill rather than requiring a difficult to remove end cap to be unscrewed.
Sanitary design
The RAPT Pill has no exposed thread and a double o-ring seal which allows for a water-tight seal with reduced risk of infection.
Less susceptible to error
The larger housing of the RAPT Pill compared to other wireless hydrometers means that the gravity logging is less susceptible to error from krausen, hops or CO2 bubbles from fermentation.
Battery life
The RAPT Pill has a long battery life and can last 2-5 months between charges when utilising Wifi. If only using Bluetooth the battery can last 2+ years before needing to be recharged. The RAPT Pill has a USB-C charging port on the circuit board allowing fast charging from any USB-C cable.
How long will the pill last between charges?
60 min. telemetry frequency: 1.5 years
30 min. telemetry frequency: 9.5 months
15 min. telemetry frequency: 5 months
Note: This is the default telemetry frequency is 60 min. so if you do not change the settings then out of the box the battery should last 1.5 years approximately.
Specifications
37 mm x 125 mm - compact enough to fit almost anywhere! USB-C cable not included